University Contra Dance

Come dance with us in Storrs !!!

"
Socrates learned to dance when he was seventy because he felt
that
an essential part of himself had been neglected."

~

Source unknown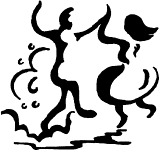 We are NOW dancing at


Storrs Congregational Church


2 North Eagleville Rd


Storrs, CT
Our schedule so far this year is every 1st Saturday in October, November and December from
8-11pm
with a lesson starting at 7:30pm.
Bring a little something to share during the break if you'd like.
This is a beautifully finished floor, clean shoes please.
Adults: $10

Students: $5

Schedule for the FALL 2015
season:
DATE CALLER BAND
October 3
Dereck Kalish

Through The Culvert - David Moore
November 7
Ron Belchner

The French Connection
December 5 Rich Sbardella The Swivets - Stacey Phillips
We only scheduled the first 3 months of the season because this dance needs to be
completely self-supporting by the December dance or we won't be able to continue.  




To run this dance on a monthly basis costs $405 which means *41* full paying ($10) 




people.  We have to do that or the equivalent in students (who dance for half price) 




or there is no way that we can continue to prop it up.  If anyone has any 




suggestions on how to increase attendance please contact me.  Thanks, Dave Cannell 



Websites



http://QuietCornerContraDance.tripod.com
http://groups.yahoo.com/group/QuietCornerContraDance



Contacts
Dave at 484.844.5203 dcannell@freeshell.org





Directions to Storrs Congregational Church
On the NW corner of North Eagleville Rd and Rt 195 in Storrs
From N Eagleville Rd, turn right into the first driveway.