Quiet Corner Contra Dance

Come dance with us in COVENTRY !!!
"
Socrates learned to dance when he was seventy because he felt
that
an essential part of himself had been neglected."

~

Source unknown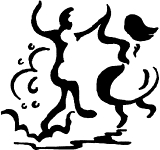 February 5
Due to the weather we've decided to cancel the Quiet Corner Contra Dance for February 8-(

Come dance with us on March 4.
Jim Gregory calling, music by The Cicadas

Thanks, Dave Cannell

dcannell (at) freeshell (d0t) org

484 (d0t) 844 (d0t) 5203 (C)
~~~~~~~~~~~~~~~~~~~~~~~~~~~~~~~~~~~~~~~~~~~~~~~~~~~~~~~~~~~~~~~~~~~~~~~~~~
We are NOW dancing on FIRST FRIDAYs at:
Patriots Park Lodge; 172 Lake St; Coventry, CT - Opposite High St and a flagpole

Google Directions - <tinyurl.com/QCCD-PatriotsParkLodge>

There is also an acoustic jam session starting at 6PM,
contact Dennis at <knowdj@aol.com> if you're interested.

Thanks, Dave

Bring a little something to share during the break if you'd like.
Adults: $10

Students: $5

2016 Winter/Spring schedule
DATE CALLER BAND
January 8 Joe dePaulo Turfgrass Warriors - David Moore & Karl Guillard
February 5 Don Heinold Damaris Rohsenow & The Fiddling Thomsons
March 4 Jim Gregory The Cicadas
April 1 Paul Wilde The Swivets - Stacy Phillips
May 6 Rich Sbardella The French Connection
June 3 Billy Fischer Wry Bred


Websites
http://QuietCornerContraDance.tripod.com
http://groups.yahoo.com/group/QuietCornerContraDance
Contacts
Dave at 484.844.5203 dcannell@freeshell.org