Quiet Corner Contra Dance

Come dance with us in COVENTRY !!!
"
Socrates learned to dance when he was seventy because he felt
that
an essential part of himself had been neglected."

~

Source unknown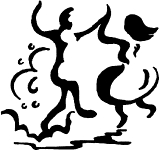 We are NOW dancing on FIRST FRIDAYs at:
Patriots Park Lodge
172 Lake St
Coventry, CT - Opposite High St and a flagpole

Google Directions - <tinyurl.com/QCCD-PatriotsParkLodge>

There is a intro/welcome session sometime between 7:30 and 8:00PM and dancing starts at 8.
If you've never contra danced before or are a relative newcomer it is recommended to attend this
session. You'll find it quite worthwhile

Contact Dennis at <knowdj@aol.com> if you're interested in an acoustic jam before the dance.

Non-marking shoe souls are a must or you can dance barefoot if you'd like.
Bring a little something to share during the break if you'd like.
Adults: $10

Students: $5

Family max: $20

Thanks, Dave


2016/2017 Fall/Winter/Spring schedule
We have 2 open dates for callers, if you have a
favorite or suggestions please let me know.
Here's what it looks like so far:
DATE                   CALLER           BAND




September 2, 2016      Jim Gregory      Stacy Phillips




October 7, 2016        Don Heinold      Damaris Rohsenow & The Fiddling Thomsons




November 4, 2016       Bill Fischer     Bill Walach & Dave Howard




December 2, 2016       Paul Wilde	Wild Card




January 6, 2017        Ron Belchner	Chicks'NSync




February 3, 2017       Sandy LaFleur	Cicadas




March 3, 2017          Rich Sbardella	Wild Notes




April 7, 2017          TBD              Dogtown




May 5, 2017            Tod Whittemore   Gotham Carnival Trio




June 2, 2017           TBD              Wry bred
Websites
http://QuietCornerContraDance.tripod.com
http://groups.yahoo.com/group/QuietCornerContraDance

Contacts
Dave at 484.844.5203 dcannell@freeshell.org