University Contra Dance

Come dance with us in Storrs !!!

"
Socrates learned to dance when he was seventy because he felt
that
an essential part of himself had been neglected."

~

Source unknown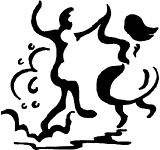 We are NOW dancing at


Storrs Congregational Church


2 North Eagleville Rd


Storrs, CT
We dance every 1st Saturday October through June from 8-11pm
with a lesson starting at 7:30pm.

Bring a little something to share during the break if you'd like.
This is a beautifully finished floor, clean shoes please.
Adults: $10 (members $8)

Students: $5

Schedule for the 2014/2015
season:
DATE CALLER BAND
September 6 David Lindsay The French Connection
October 4 Paul Wilde Ken Sweeney, et al

November 1 Todd Whittemore Stacey Phillips, Dave Howard & Gary Wikfors

December 6 Elwood Donnelly Cicadas
January 3 Ron Belchner Clutch Ghandis

February 7 Don Heinold Damaris Rohsenow with The Fiddling Thomsons
March 7 Rich Sbardella The Rainwaters featuring Max Rainwater

April 4 Steve Holland Chicks 'n Sync

May 2 Steve Howland 1st Time String Band
June 6 Bill Fischer Wry Bred

For a sample of music from Wry Bred,
go to http://soundcloud.com/robertmessore/sets/wry-bred


Websites

http://QuietCornerContraDance.tripod.com
http://groups.yahoo.com/group/QuietCornerContraDance



Contacts
Marc at mascrivener@gmail.com or
Dave at 484.844.5203 dcannell@freeshell.org





Directions to Storrs Congregational Church
On the NW corner of North Eagleville Rd and Rt 195 in Storrs
From N Eagleville Rd, turn right into the first driveway.