Quiet Corner Contra Dance

Come dance with us !!!

"
Socrates learned to dance when he was seventy because he felt
that
an essential part of himself had been neglected."

~

Source unknown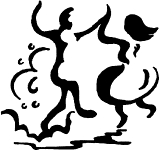 We are NOW dancing at


Storrs Congregational Church

;

2 North Eagleville Rd; Storrs, CT
We dance every 1st Saturday October through June from 8-11pm
with a lesson starting at 7:30pm.

Bring a little something to share during the break if you'd like.
This is a beautifully finished floor, clean shoes please.
Adults: $10 (members $8)

Students: $5


September flyer
Schedule for the 2013/2014 season:
DATE CALLER BAND
September 7 Steve Holland Chicks 'n Sync
October 5 Paul Wilde Becky Miller / Norb Spencer Duo (accoustic)
November 2 Rachel Shapiro Allemand North
December 7 Tod Whittemore Julie Metcalf & Larry Unger
January 4 Bill Fischer Oh Reely?
February 1 Don Heinold Sally Rogers/Ken Sweeney Duo

March 1 Joe De Paolo Wild Card
April 5 Elwood Donelly French Connection

May 3 Steve Howland Cicadas
June 7 Bill Fischer Wry Bred

For a sample of music from Wry Bred,
go to http://soundcloud.com/robertmessore/sets/wry-bred


Websites

http://QuietCornerContraDance.tripod.com
http://groups.yahoo.com/group/QuietCornerContraDance



Contacts
Marc at mascrivener@gmail.com or
Dave at 484.844.5203 dcannell@freeshell.org





Directions to Storrs Congregational Church
On the NW corner of North Eagleville Rd and Rt 195 in Storrs
From N Eagleville Rd, turn right into the first driveway.



Directions to Windham Town Hall

Windham Town Hall is located on the NW corner of Main and High Streets in Willimantic, CT.
Entrance is from High St and the ballroom is on the 2nd floor.